Why We Run
Sample Event


Join us on sample date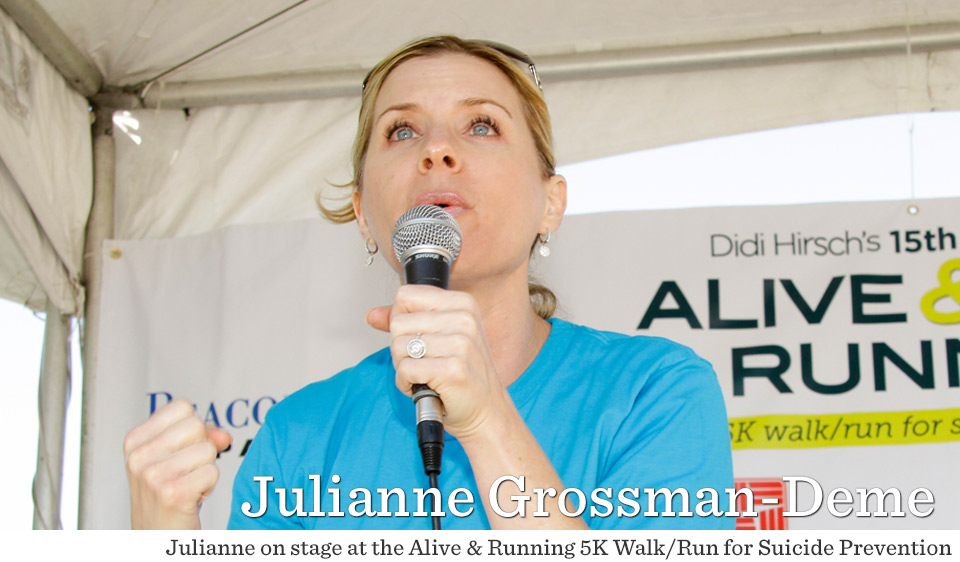 It is easy—tantalizing, even—for me to forget what depression feels like. To forget what my friends and family witnessed and endured. To disassociate from the times I was hospitalized; to shelve the humiliation and shame in one of my brain's back alleys (behind, even, becoming a woman onstage during a 9th grade performance of 'Fiddler on the Roof').

I find it's much more palatable to masquerade as a normal human being. To wear my t-shirt "Just a Tad Bit Crazy" and laugh, hahaha! To focus on my show "From Bonkers to Botox," a bittersweet comedy about my suicide attempt(s), which was featured at the HBO Comedy Festival and resulted in a deal at NBC. Or the fact that 'Bonkers" became a fund-raising vehicle for the Didi Hirsch SPC in 2005, and I've felt a part of the team ever since.

I'll tell you something you already know: behind the onstage laughter, despair is just waitin' for a cue in the wings. If I'm honest, the only way I've been able to combat it is with the right meds, an awesome support network, and talking about it with anyone who will listen (marrying a man who makes me feel safe and loved doesn't hurt either). Sharing my story and doing my part to erase the stigma goes a long way towards slaying my shame and accepting that I live with depression.

It's truly been an honor, over the last decade, to emcee 'Erasing the Stigma' and 'Alive and Running.' But the real rewards have come much more quietly. As a trainee in ASIST (The Applied Suicide Intervention Skills Training), I was given the tools for navigating through a real-life suicide intervention. As a peer facilitator and participant of the SOSA Support Group (Survivors of Suicide Attempts), I connected with nearly a dozen people from all walks of life who were in crisis. I exchanged numbers with a woman in that group whose blue eyes were the bleakest I'd ever seen. She was hopeless, desolate, inconsolable. As God is my witness, a year later, she walked proudly onstage at last year's 'Erasing the Stigma' Awards in a stunning black dress and heels, to give back to the organization she credits with helping save her life.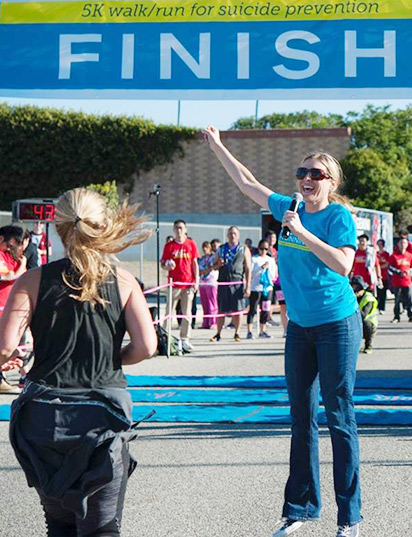 So. Why do I run? Well, I don't, actually, because I announce participants as they cross the finish line, provide general bonhomie, and frankly it would just be embarrassing to have a run time of an hour and forty-five minutes. But I'm there because being involved with the Didi Hirsch Suicide Prevention Center reframes my narrative. I go from someone who has attempted suicide, to a suicide prevention advocate. I go from isolation to being a connected part of a community. My involvement with the SPC shifts my focus from inward to outward, and allows me to think of my painful past not as a weakness, but as the strength which fuels my passion to offer those who suffer a shred of hope.