Why We Run
Sample Event


Join us on sample date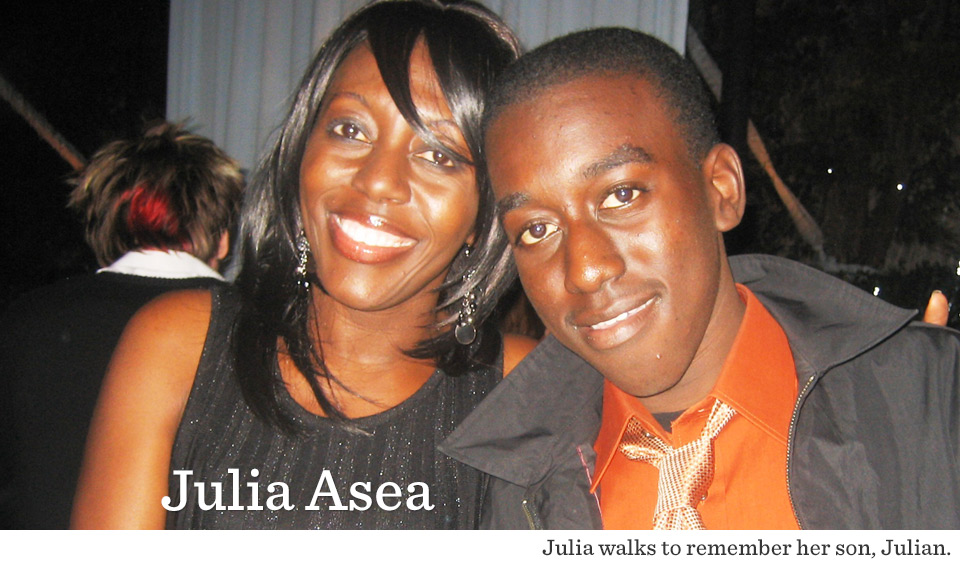 It is hard to believe that it has been five years since I lost my son, Julian, to suicide! Julian, my first born, was a jokester; he was handsome, charming, charismatic, and a creative young man admired by his peers and, unbeknownst to us, a very sensitive soul. Prior to his death, he attended Santa Monica College and had started a photography business, had a part-time job and was an aspiring artist. It was a total shock that a young man with such a promising future would make the irreversible choice to end his life.

Like many of the other Alive & Running participants, I was very emotional walking for the first time, but determined to do something to turn this terrible tragedy into something positive. I wanted to honor my son's memory while also doing something that would bring awareness and erase the stigma associated with suicide and mental illness. I don't want another family to endure the lifelong pain that one endures after losing a loved one to suicide.

The counseling services and programs Didi Hirsch offered helped me cope and the bonds I have formed with other survivors will keep me connected to them for a lifetime. I didn't see the signs and therefore wasn't able to save Julian's life. The outpouring of love and support that I received from the first walk until now, from my co-workers, church family, friends and family is amazing and has inspired me to continue doing this walk. Our team has grown since the first year and last year we were awarded an Outstanding Team Award. This year I have renewed excitement with new donors and new team members. My hope is that through fundraising, walking and sharing my story, someone's life can and will be saved.